Initiating Seasonal Contingency Procedures in 3. 2. 1…
Ready for a taste of the future? Season 5's Mid-Season update goes live today, bringing new Challenge Rewards and Shop Items to the game. We're also excited to announce the new Decal Derby Event coming out later this Season, as well as a preview of the upcoming Season 5 Rewards. Keep reading for more info on what's to come.
Mid-Season
Just when you thought the action in Rocket League Sideswipe couldn't get any more intense, Mid-Season Challenges have arrived! These Challenges are the perfect way to test your skills while earning some sweet, sweet XP. The Item Shop is also getting a Mid-Season refresh with a slew of new Items, including the Orange Supernova Goal Explosion.
Decal Derby
The last week of Season 5 will go out with a blast! Introducing Decal Derby, a new Event that unleashes a dozen Decals into the game through in-game challenges. There will also be a complete Item Shop takeover with six decals to choose from, plus the Twinzer Car will be available for 3200 SP.
You can keep earning six more Decal Derby Rewards just by playing the game! Get 40 Saves in Online Matches to unlock the Voyager Octane Decal, or Win 10 Online Matches with the new Twinzer to unlock the Slimed Decal.
Decal Derby will begin on November 9, so you still have plenty of time to stock up on SP!
Decal Derby Item Shop
Twinzer Car

Two-Tone - Diestro Decal

Gale-Fire - Octane Decal

9 Lives - Breakout Decal

Kraken - Breakout MK2 Decal

Safari - Marauder Decal

Tribal - Aftershock Decal
Decal Derby Challenge Rewards
Slimed - Twinzer Decal

Voyager - Octane Decal

Maxx - Mantis Decal

Big Scratches - Werewolf Decal

Copycat - Takumi Decal

Asymmetric - Dominus Decal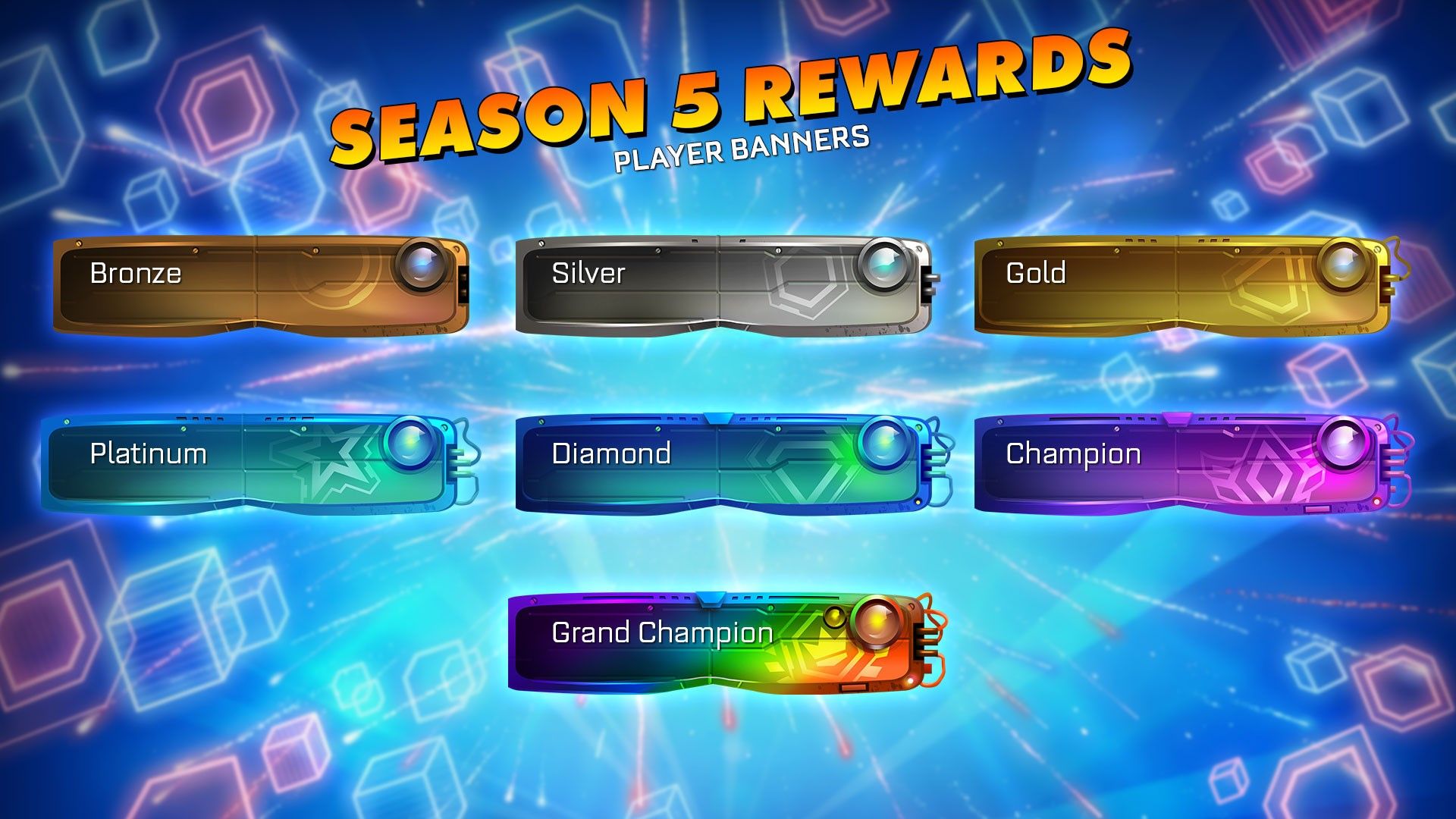 Season 5 Rewards
Season 5 isn't over yet, but we wanted to announce the rewards a bit early. In addition to the usual Player Titles, players will get season-exclusive Player Banners based on their peak rank during Season 5. These banners will let you flaunt your skills to the world, so what are you waiting for? Start climbing those ranks and show everyone who's boss!
Rewards may take a short time to appear in your Garage following Season 6's launch.
Hop into a match and start earning rewards—Mid-Season begins today!