Your Garage Will Never Be The Same
Season 6 was a beautiful look at Rocket League Sideswipe's very first year, but Season 7 is all about moving forward. With an update to Rocket Pass and the introduction of Collection Rewards, we're excited to share what's next on deck!

Rocket Pass Update
Starting in Season 7, Rocket Pass progression will no longer reset between Seasons. Instead, Rocket Pass will become a permanent way to track your progress while earning Items. As you level up, you'll earn new types of Rocket Pass Presents that drop an assortment of previous Rocket Pass Items and in-game currency.
Rocket Pass Present Types
Body Present

Boost Present

Decal Present

Explosion Present

Topper Present

Wheel Present

Vanity Present (Pulls from Banners, Avatars, Quick Chats Stickers, and Titles)

SP

Tokens (more info below)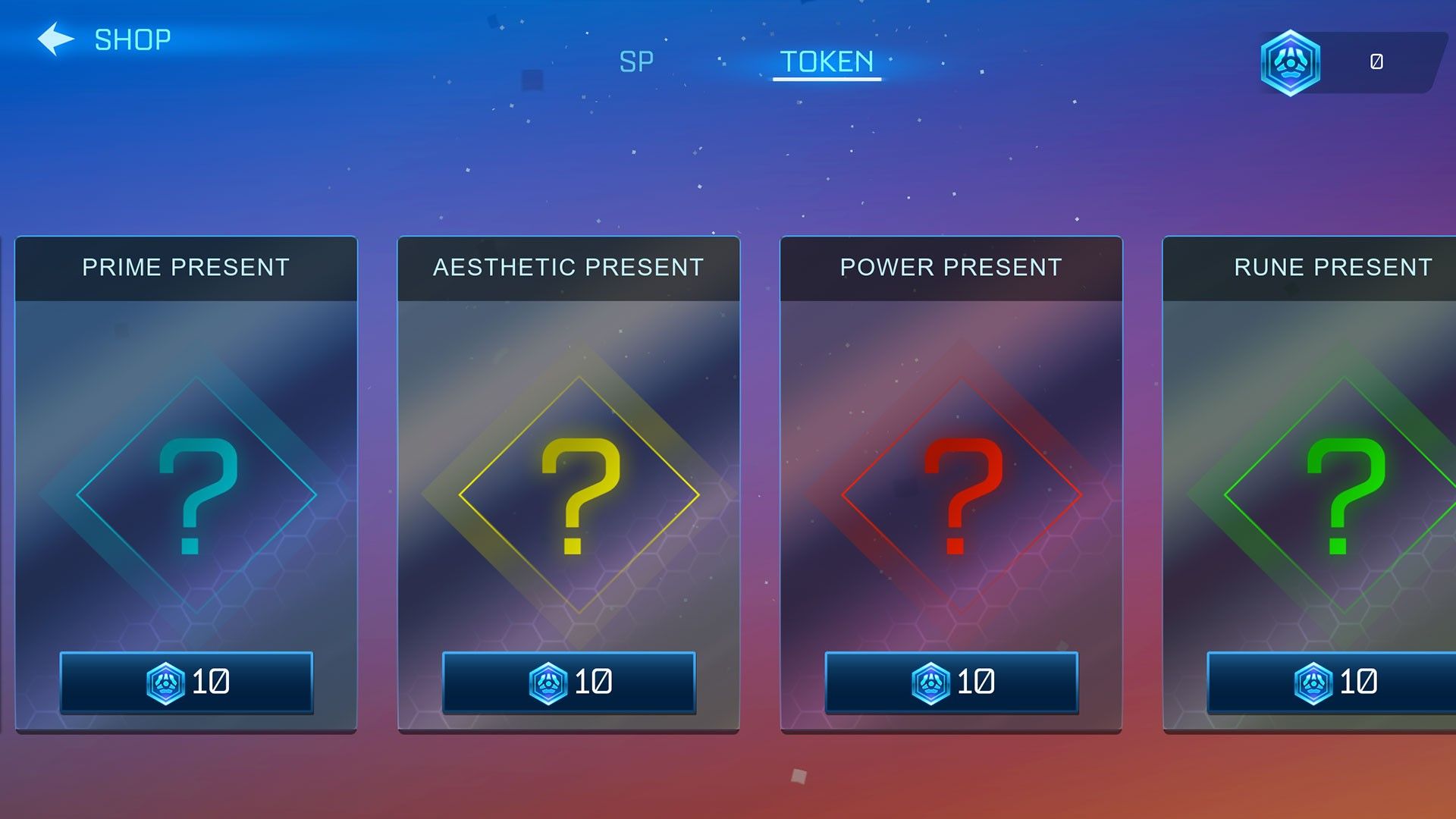 Token Shop
This Season will also introduce the Token Shop Tab. In this new shop, you'll be able to buy Season Presents, each of which drops a random Item from past Seasons. To buy Season Presents you'll need Tokens, a new currency that can be earned by leveling up your Rocket Pass and completing Weekly Challenges.
Token Shop Presents
Prelude Present (Pre-Season)

Prime Present (Season 1)

Aesthetic Present (Season 2)

Power Present (Season 3)

Rune Present (Season 4)

Synth Present (Season 5)

Fiesta Present (Season 6)

Derby Present (Decal Derby from past Seasons)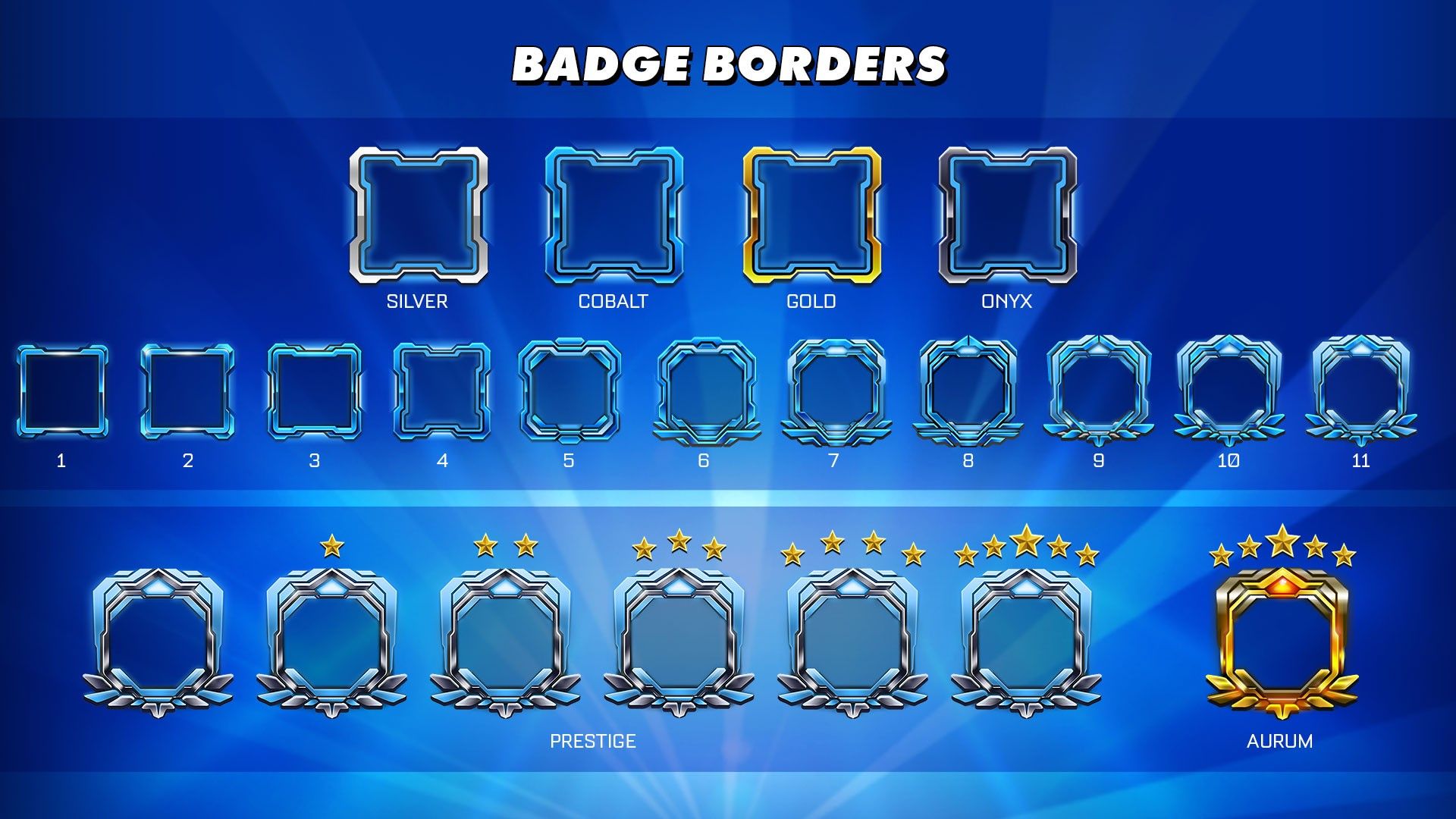 Badge Borders
As you level up in Rocket Pass, you'll also earn Badge Borders to show off your career progression on the Rocket Pass Tab. Players start with Silver Badge Borders but can upgrade from Silver to Cobalt, Gold, and Onyx. You'll need to climb 11 Tiers to reach the next border color, while each Tier adds a bit more flair.
Reaching Onyx Tier 11 will allow you to Prestige. Prestiging resets your Badge Border back to Silver Tier 1, but adds a star above your Badge Border so you can show off your accomplishment! Each time you Prestige you'll gain another star, and start back at Silver Tier 1. Prestiging does NOT reset any other game progression other than your Badge Border.
For our most dedicated rocketeers, there's one last task. When you reach Onyx Tier 11 with five stars you'll receive the Aurum Badge Border, plus a Title to honor the last lap of your legendary journey.

Introducing: Collections!
Filling your Garage has been a core part of Rocket League and Sideswipe since day 1, and in support of this noble goal, we've added a Collection Tab to help keep track of your hoard. Although customization is its own reward, we felt an actual reward might be nice too!
Whenever you collect every Item in a slot, you'll also earn a matching Collection reward. For example, collecting every Boost will unlock the Gold Rush Boost, while a full collection of Wheels will unlock Goldstone Wheels.
Collecting a complete set of Painted Items will also earn you rewards. If you own every color of a single Item (ex, every color of Octane), you'll unlock a Chromatic Painted version of that Item. Chromatic Items will slowly cycle through every color of the rainbow—no more choosing between orange or blue when you can have it all!
Now, this last Item is a bit more mysterious. We've never seen one in the wild, but if you believe the rumors, it appears that any player who collects EVERY SINGLE PAINTED ITEM will receive an extra super ultra rare Title. It's even rumored that the Title can be used in both Sideswipe and Rocket League. I guess we'll have to see it to believe it!
Get your rocket-dex ready—the new Rocket Pass and Collection changes will go live alongside Season 7 on January 25!